These Little Piggies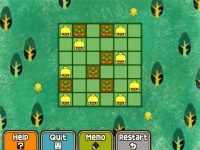 These Little Piggies is a set of daily puzzles released for Professor Layton and the Azran Legacy. It is the seventh set of daily puzzles.
"Erect fences to protect the piggies from the big bad wolf!"
[edit]
How to Solve
Draw a fence on the Touch Screen to encompass all the houses and fields in one single fence. Each house must have a fence on three of its sides, while a field must have no more than two fences surrounding it. Since a single fence must be made, there must be no junctions.
You must surround all the houses and fields in the fence to solve the puzzle.
[edit]
List of Puzzles