UF148 - Matchstick Math
This is the one hundred and forty eighth puzzle you will encounter in Professor Layton and the Unwound Future. To access this puzzle, you must examine the leftmost tree. In order to solve this puzzle, you must determine the fewest number of matchsticks that must be moved to make a valid equation.
[edit]
Messages
[edit]
When Failed
Too bad!
There's a twist here somewhere...
[edit]
When Completed
You're on fire!
Zero matches is correct.
If you look at the equation upside down, it becomes 10 = 9 + 1 in Roman numerals.
The phrase "fewest number of matches" might have tricked you into thinking "at least one match," but "fewest" can mean no matches at all!
[edit]
Solution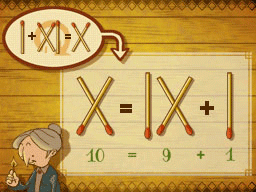 Zero matches can be moved.
[edit]
Progress
2330 Picarats and 186 Hint Coins.