MJ083 - Undone Bridge
(Redirected from Undone Bridge)
This is the eighty-third puzzle you'll encounter in Layton's Mystery Journey: Katrielle and the Millionaires' Conspiracy. To access this puzzle, you must talk to Douglas Dert. To complete the puzzle, you must position the tiles to match the legend.
[edit]
Messages
[edit]
When Failed
You cannot fail this puzzle.
[edit]
When Completed
You did it!
The coat of arms has been restored. The legend was telling of how it is a white triangle placed on top of a blue hexagon.
[edit]
Solution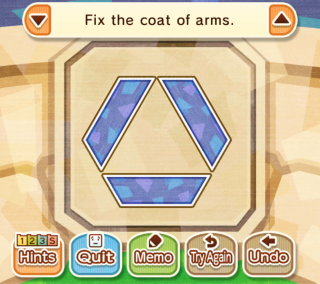 Arrange the tiles as shown.
[edit]
Progress
3240 Picarats and 199 / 202 Hint Coins.
Last edited by
Squiggle
on 20 October 2017 at 03:01
This page has been accessed 1,372 times.