Vault of the Ancients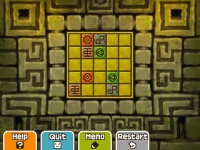 Vault of the Ancients is a set of daily puzzles released for Professor Layton and the Miracle Mask. It is the ninth set of daily puzzles that were revealed.
"Here we are at last - the tomb entrance! If we can just connect up all the ancient hieroglyphs, we'll be as rich as kings! I don't care how many doors we have to go through!"
[edit]
How to Solve
Drag your stylus starting from one hieroglyph to connect it up to its matching pair. To erase it, trace back over it.
You cannot cross links over, so your links must be placed carefully.
You must connect all the pairs of hieroglyphs to solve the puzzle.
[edit]
List of Puzzles